Bob's Special Day is a temporary event which which has begun on 9th March 2017. Minions have gathered huuuge gifts for Bob, help him tear them open!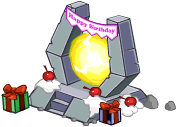 It's a strange ancient portal.
The Birthday Realm is not marked on the world map and the only way there is via the Birthday Ancient Portal located at the very beginning of the Amero Kingdom. Also, the only way back to the Amero Kingdom is via the Anniversary Ancient Portal in the Anniversary Realm.
Player can freely move between the worlds. There is no charge for using the Portal.
The Anniversary Ancient Portal is only available and activated during the Special Event.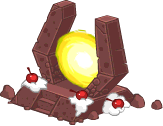 It looks like you can enter the cake monster...
Do you dare to proceed?
After defeating Birthday Cake Boss, a mysterious portal to a world full of challenges will be opened.


First Birthday World Challenges: 11
Second Birthday World Challenges: 9
The difficulty of the Challenges depends on the highest ever reached difficulty (see the section below for more informations).
Giant Cake World (Part II)
[
edit
|
edit source
]
The growth of challenges' difficulties varies depending on the interval in which the highest ever reached difficulty fits. It also differs for the challenges inside the cake.
Highest difficulty
ever reached
Level increase
per challenge
Below 100
+50
100 - 249
+35
250 - 499
+25
500 - 749
+20
750 - 999
+15
1000 and above
+10
Each challenge has a separate multiplier. The first one has -1, the second 0, the third 1, and so on up to 8 for the last challenge. The level increase per challenge is multiplied by the multiplier of a particular challenge and then added to the highest ever reached difficulty. The result is the difficulty of the challenge.
The difficulties are fixed values. It means that they were calculated at the beginning of the event and they won't be ever changed.
The anniversary realm is the first one to feature only challenges for Bob.
Community content is available under
CC-BY-SA
unless otherwise noted.